Beach Blitz Atlantic City (August 2020)- ADULT Soccer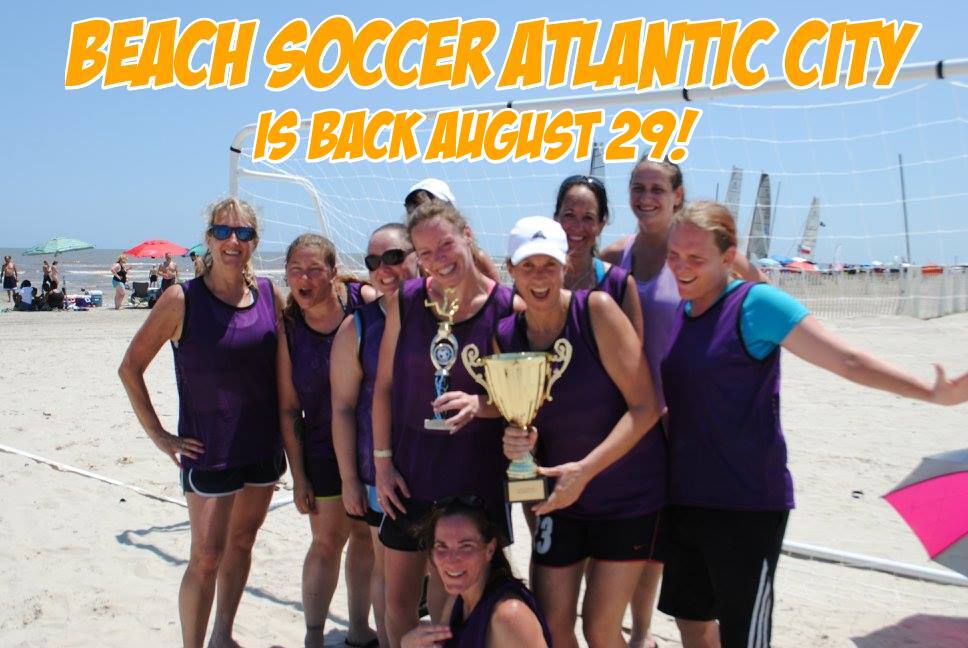 Join us at the family friendly and beautiful Brigantine Beach, next-door to Atlantic City for our 8th annual 5v5 Beach Blitz Atlantic City tournament on August 29, 2020. We are positive that you'll enjoy a day on the beaches of Atlantic city

The Soccer Resort has been running beach soccer tournaments since 2009, and is very excited to host this tournament where Beach Blitz all began. What's better than a day of soccer and a trip to the beach all in one?
Soccer Tournament Details
We expect a large turn out in Atlantic City this summer following the past 8 years of our AC Beach event. We're expecting teams from leagues all across the United States and Canada to join us.

The tournament will be taking place on one of Atlantic City's coastal beaches, the beautiful Brigantine Beach. August 30 is our reschedule/rain date

On the soccer side you get:
5v5 soccer against classy opposition (4 + 1 goalie, maximum 10 players)
Four games guaranteed with playoffs for those who qualify
30 minutes per game
Complimentary souvenir jerseys for travel teams
Soccer travel prizes galore
Soccer Resort Champion Cups for the Winners and Trophies for the runners-up
Registration fee is $425 for local adult teams. Travel teams are eligible for cheap Hotel and Tournament packages (more info below).
ADULT DIVISIONS INCLUDE:
Men's: Open (most competitive) B, Over 30's and Masters
Women's: Open (most competitive) B and Over 30's.
Coed: Open (most competitive) and B (Coed will consist of 3 men and 2 women on the field. You can have more women, but not more men
If you still have any questions about the tournament, feel free to contact us at:
E-Mail: travel@soccerresort.com
Phone: 718.433.2452

Want to play in this tournament, but don't have a team? Sign up as a solo player at www.ClubSoccerResort.com and we'll match you up with a team in need!
Tournament Prizes
Soccer Resort is not only a vacation weekend - but winners, and runners-up in the top divisions and lower level consolation cups always get Soccer Resort Bucks as a prize. This is not actual money, but more like a credit or a discount on hotel and tournament packages for your next Travel tournament. We don't pretend it's like winning the lottery, but many of our teams appreciate that we are making further trips cheaper. These prizes are for travel to most but not all tournaments.
Tournament Types include
Coed B
Coed Open
Mens B (Division 2)
Mens Open (Division 1)
Mens Over 30s
Mens Over 40s
Womens B (Division 2)
Womens Open (Division 1)
Womens Over 30s
Things to do
Atlantic City has everything you want from a Casino City; gambling, nightclubs, shows and tons more. And don't forget about plenty of time on the beach!
Tournament Hotel for Weekend
We will be staying at the Bally's Hotel which is located right on Atlantic City's Casino strip.
Hotel and Tournament Packages
All Soccer Resort Atlantic City packages include

3 days and 2 nights at a four star hotel centrally located
All tournament registration fees and referee fees
Soccer tournament on pristine sand pitches
Soccer Resort tournament jerseys (souvenirs)
Post tournament party
All taxes included (usually $50 or more). So no surprises!
Use the form below to filter by sport, season, day(s) and/or location; or scroll to view all programs.
---
Team Fees

Regular

$425.00 per team

Free Agent Fees

Regular

$45.00

Team Fees

Regular

$425.00 per team

Free Agent Fees

Regular

$45.00

Team Fees

Regular

$425.00 per team

Free Agent Fees

Regular

$45.00

Team Fees

Regular

$425.00 per team

Free Agent Fees

Regular

$45.00

Team Fees

Regular

$425.00 per team

Free Agent Fees

Regular

$45.00

Team Fees

Regular

$425.00 per team

Free Agent Fees

Regular

$45.00

Team Fees

Regular

$425.00 per team

Free Agent Fees

Regular

$45.00

Team Fees

Regular

$425.00 per team

Free Agent Fees

Regular

$45.00

Team Fees

Regular

$425.00 per team

Free Agent Fees

Regular

$45.00

Team Fees

Regular

$425.00 per team

Free Agent Fees

Regular

$45.00